Opportunities, Dates, Deadlines ~ June 23, 2015   
---
Quick poll…
Who is using Cellar Pass – and how's it working for you?
Who is using VinoVisits – and how's it working for you?

Wine Road is working on a new concierge service to have on our website and we want to know who else is should connect with.
---
Things You Should Be Aware Of…
---
A Wine &  Food Affair ~ Nov. 7-8
If you plan to participate in Wine & Food Affair, the sign up form is below. Please

upload your recipe via the link sent to you from Kreck Designs (June 2nd). The deadline is July 15.


Be sure to drop off your bottle of wine for your recipe "bottle shot". We need the wine by July 15th also.



Sign Up Form
Details about the event
---
It's Time For Our Annual Dinner/Meeting
SAVE the DATE – we'd love to see ALL Wine Road members
atte
n
d this yearly, informative dinner/meeting (

for owners, p
rinc
i
pals, managers)


July 15,  5:30-8:30pm at TRIONE WINERY
Please RSVP, to anne@wineroad.com limited to 2 people per winery or
lodging. Our focus will be getting everyone up to speed and excited about 2016 and a year of celebration for our 40th Anniversary!
---
Recent Press
Wine Road hosted a press tour May 31-June 3 – with 3 journalists from Seattle and 1 from SF. All are freelancers, writing for multiple publications. We managed to visit or include 12 wineries, 4 lodgings and 6 restaurants. We'll share stories as they are published.

From prior press visits (via our PR firm, Wagstaff Worldwide):
The Drunken Cyclist
Refinery 29
---
Yearly Assessments
Your yearly assessment will be mailed to you this week. Payable anytime between now and Aug. 31.  $800 per winery, $450 for lodgings and $1200 for a co-op tasting room. There are also 9 members who will receive a bill for missing Winter Wineland and or Barrel Tasting ticket money, which must also be paid in order to renew membership.
As with each event, when you sign for supplies you are responsible for returning unsold supplies, or you are billed for them at the ticket price.
---
Our 40th "Ruby" Anniversary
This week you can expect to receive a colorful newsletter outlining our plans for events (big and small) throughout 2016 – as we plan for a year of cele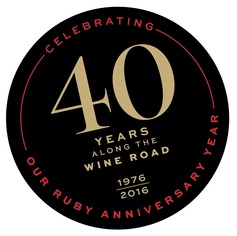 brations. You'll also receive the sign-up form for the various events and social media programs, as well as donation requests of used barrels (for art) and wine for a raffle.  We are getting SO excited about our plans! 
We are also seeking sponsorships for various events. I've attached the form you can share with vendors you think may be interested in supporting the Wine Road and getting their name in front of our members and visitors.
MEMBERS may also want to be a sponsor – this will be quite a year of celebrations!  Get your name out there on our website, printed material, on event items etc.
Sponsorship Options